Characters
Episode Guide
Special (Only aired on Cartoon Network)
* These episodes have never aired on Cartoon Network, but have aired in Canada.
For more info, see here.
Poll
Should there be a Season 3?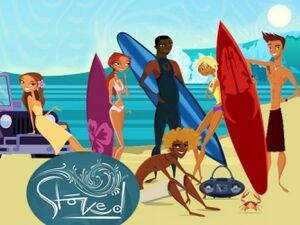 Plot
The series Stoked is a Canadian animated sitcom. It premiered on Thursday June 25, 2009 on Teletoon. Stoked is about a group of teenagers new to Sunset Beach, British Columbia (groms is the term used to describe them in the series) who have traveled to the legendary Surfer's Paradise for one summer to try to win a chance at the Gromfest surfing tournament. They have jobs at Surfer's Paradise Ridgemont Resort, which sucks. But when they get the chance they surf.
More about Stoked
If you would like to learn more about Stoked, please see: Stoked Information
Contribute to this wiki
To write a new article, just enter the article title in the box below.
Not sure where to start?
Ad blocker interference detected!
Wikia is a free-to-use site that makes money from advertising. We have a modified experience for viewers using ad blockers

Wikia is not accessible if you've made further modifications. Remove the custom ad blocker rule(s) and the page will load as expected.