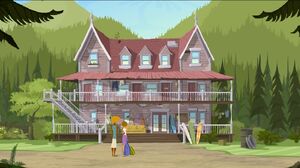 The
Staff Housing
is where the young employees of
Surfer's Paradise Ridgemount Resort
stay over the summer. It is somewhat of a dump and is not that well kept. The porch has couches, and an old black-and-white TV set was initially in the common area. One of the positives is that it is near the beach. Most of the known rooms there can have up to three people rooming in each of them.
Staff who live there
Trivia
There are many surf boards around the front entrance that may belong to one or more surfers.
There are Christmas lights seen around the front entrance and some that hang from the porch roof.
Fin's room is 202. Emma's room was originally 203 (shared with Martha McCartney), but she later moved in with Fin after a skunk sprayed her room (caused by Martha, who then vacated the room).
The staff house TVs, which are not hooked up to cable or satellite, have "rabbit ear" antennas to receive TV signals.
The toilet has a habit of backing up (revealed in "Welcome to Paradise, Dudes!").
The place was so messy that, until "A Boy Named Leslie", Broseph didn't know that the toilet had a seat.
There is a picture of El Duderino in the main room above the couch.
There is a mini bar in the main room.
It is nicknamed the "Roach Motel" by Fin, so named because of the roaches she found in her room in "Welcome to Paradise, Dudes!".
Gallery
Ad blocker interference detected!
Wikia is a free-to-use site that makes money from advertising. We have a modified experience for viewers using ad blockers

Wikia is not accessible if you've made further modifications. Remove the custom ad blocker rule(s) and the page will load as expected.